Ever wondered what happens when large amount of bugbears or orcs come up against human armies? I did! So I decided to implement a simulator for fights at large scale. Yes, I know there is the war-machine - but I wanted to have a more individual view on it. Below is a link to a movie showing the simulator at work and some screenshots. The simulation and movie are about what I named the "borderland incident": A clash of a huge humanoid army (all the forces of bugburbia combined with he forces of high-goblinity) against the Darokin Second Army, named "The Orc Slashers" (only the VII and VIII Legion). Have fun with the movie:
https://youtu.be/BUga17NO9n4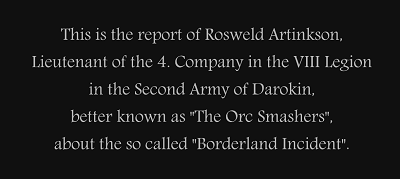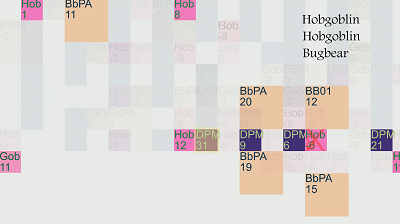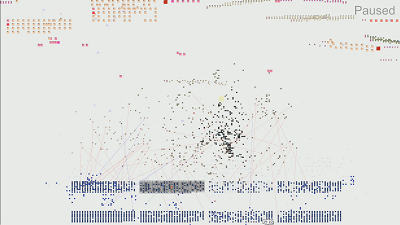 I tried to build the armies as described in GAZ11-Republic of Darokin and of GAZ10-Orcs of Thar. Though there is no hint in these gazeeters, that the "borderland incidence" actually took place, it seemed possible to me.
There are more than 5000 individual characters involved in this battle, including:
Darokin VII and VIII Legion:
1720 pikemen
200 cavalry
400 archers
Bugburbia and High Goblinity:
380 commom bugbears
45 bugbear ravangers
520 common goblins
475 goblin wolf-riders
80 advanced goblin wolf riders
600 hobgoblins
40 ogre
I also added heroes, commanders and subcommander in appropriate levels. You can get the exact numbers in the Stat-List below. The numbers in the abbreviations normaly state the level of the character: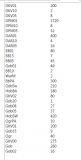 In the first 10 Minutes of the movie there is rather no action, as I prefered to introduce the different units and their formation and tried to tell a tale about the upcoming battle. The zooming in the movie is still a bit awkward and scrolling is juddery, which is not so much caused by the simulator lagging but due to the severall screenshots added in the movie. Maybe I will work on this at a later time. The simulator calculates the actions of the characters in rounds (specified in the D&D-rulea as to take 10 seconds). This is not yet reflected in the movie, as the simulator makes one screenshot per round, but the movie shows one screenshot in about 0,6 seconds. Fighting is thus very compressed. I already have some ideas how to cope with it in coming days. Also, when you watch the movie, you will realize, that the simulator often was set on "Paused" when I zoomed and scrolled, because the battle would have been over before I would have zoomed to a single character.
I´m no native speaker, so there will be errors in my English in the movie (as there are in this text). I´d appreciate, if someone could spot them and post them (please with the time-set in the movie). Please also make a improvement proposal, so I could correct the errors in the movie.
I will leave Darokin for some time and plan to concentrate to Glantri (with all it´s magic!).
So this will probably be the last movie I post in this section. Look out for post with the name "[Large Scale Battles] Glantri vs ???" yet to come!
I still appreciate any comments or suggestions. Please don´t hold them back!
Have fun with the movie:
https://youtu.be/BUga17NO9n4
Edit: Following there is a list of movies from the simulator I "produced" earlier. The quality is not as good, but I hope you will find them interesting.
1000 Fighters vs 1000 Orcs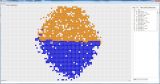 5 Fighters (Level 1, Sword, Chainmail) vs 5 Orcs:
https://youtu.be/5HIdU8c1fFI
10 Fighters (Level 1, Sword, Chainmail) vs 10 Orcs:
https://youtu.be/YRxDlk2ipko
100 Fighters (Level 1, Sword, Chainmail) vs 100 Orcs:
https://youtu.be/SFgiQdBDkDU
1000 Fighters (Level 1, Sword, Chainmail) vs 1000 Orcs:
https://youtu.be/URf1HccJKhE
Lots of Ogers, Fighters and Archers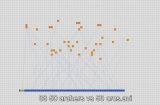 100 unfortunate Fighters (Level 1, Chainmail, Sword) attacking 100 Ogers (which are really hungry). The Fighters will probably never tell their tale:
https://youtu.be/5qlNkSQqSqE
100 clever Fighters (Level 1, Chainmail, Sword) waiting for 100 Ogers (which are still really hungry, but kind of stand in each others way):
https://youtu.be/UahXiTcPYuI
50 Archers (level 1, Leather-Armor, Longbows, Short Swords) waiting for some 50 Orcs to approach. After several salves the archers spread out to go on:
https://youtu.be/1BODboTAj64
100 Archers (level 1, Leather-Armor, Longbows, Short Swords) waiting for some 100 Orcs to approach. The second line of the archers unfortunatly can´t shoot, as the first line is in there line of fire:
https://youtu.be/sbmIVnz2oW0
Magic-missles, running away and a fireball
10 magic-users with magic-missles trying to stop 10 orcs. The missles hit, some orcs die and the magic-user try the hell to get away with it:
https://youtu.be/z0ORpmu5208
Just one magic-user, this time not with a magic-missle, but a fireball (we all love fireballs, don´t we?). The Fireball takes it toll, but the magic-user still has to flee, cause he forgot to memorize his spells this morning:
https://youtu.be/Q8sXupFkHUc
So let´s start some large-scale fighting: A company of Soldiers (Fighters, level 1, chainmail, sword), supported by two higher-level magicans (the ones with the fireballs) and several archers and commanded by a high-level fighter (Level 15, Platemail+1 and reflection, Sword+1) are attacked by several waves of orcs. Note once more, as the archers can only shoot as long as the trajectory of the arrows climbs over the heads of the allied fighters:
https://youtu.be/X8Gumwin6Y4
A quick view on the simulator
Just a picture, that shows the simulator and the zoomed-in battlefied. Click on it to enlarge: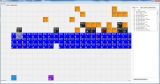 Darokin also pressing forwards
Made a version, where the Darokins rush forward too and encircle the bugbears. This version has no comments in it:
https://youtu.be/_1xoxnZzeWk
HEROES against orcs!
Have not much time left, but here you are: 4xlvl15 fighter about roughly 140 orcs (Guess who wins!):
https://youtu.be/jRnm5vNTCyI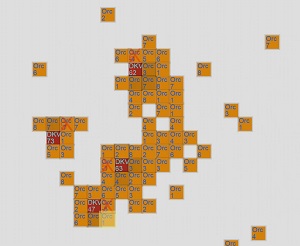 I did some more hero-simulation simulations to check the various tactis:
4 dump heroes (lvl15, platemail+1, pike+1) vs 140 orc compared with 4 clever heroes fighting back to back:
https://youtu.be/Z70gXj_9f8E
https://youtu.be/3_2KLqDJ2js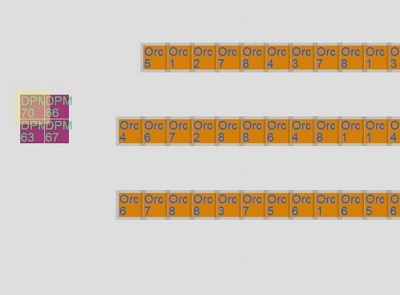 [url=hhttps://youtu.be/3_2KLqDJ2js]
[/url]
Teaser: Bugburbia and High Goblinity VS Darokin (NO FIGHTING, just maneuvering!)
The tribe of bugburdia asked for some support and after lots of drinking bad beer and several bribes the tribal chief of high gobliniy of the broken lands came for their support. No actual fighting, just showing the assembled troops and their pre-battle maneuvers. I had no time to add some comments in the movie so let your imagination enlighten you:
https://youtu.be/Yh-e5FUfvvA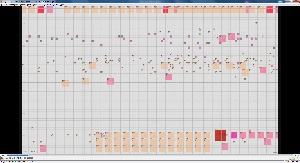 Elves vs. orcs
Let´s start with a new serial: elves vs orcs. I begin small with 5 elves (lvl1, chainmail, each 1 spell of magic-missle, swords, longbows) against oncoming groups of 5 orcs. When the spells are gone and all arrows shot, the orcs start to reach the elves. But lots of them fail their moral- checks and don´t even attack:
https://youtu.be/t6hI3Lmx6do
Another large scale battle in D&D: 50 elves (lvl1, chainmail, each 1 spell of magic-missle, swords, longbows) against 150 orcs assaulting in one single group. Blue lines are arrow shoots from the elves, red lines are the magic missles. Do the elves stand a chance?
https://youtu.be/GzPAYV1SkzQ
Elven warband against waves of orcs
Had to fix a memory-leak in the simulator, but now it is done and here is the next simulation:
An elven warband, lead by an elf lvl10, standing its ground against waves of orcs, supported by their tamed wolves and some goblins, and even one ogre.
This time I put some short comments in the movie, but seems like the pop up a bit too fast.
As you can see in the movie, the elves have some magic with them! Anny suggestions on what to simulate next or comments are welcome.
https://youtu.be/eeNyZzqgMvw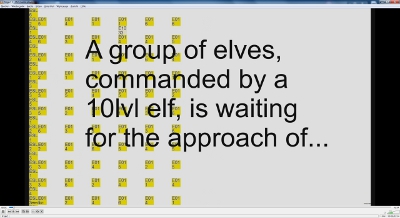 Old Version of Darokin vs. Bugburbia
The Darokin Second Army, named "The Orc Slashers" (only the VII and VIII Legion) against the bugbear-tribe of Bugburbia:
https://youtu.be/cco-nJ5Kt6c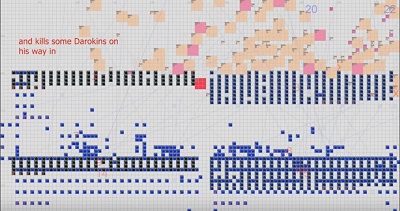 As you can see in the movie, the Darokin Archers retreat, when the Bugbears come close, but still try to hit them (blues lines=Darokin arrows). Though they have problems to shoot over their allies heads (yes, the trajectories are calculated). Likewise the goblins, supporting the bugbears, set some arrows off (reddish lines) before they make contact with the Darokin Pikemen.
I tried to let Hits and Damage and anything else be calculated for any individual according to the D&D rules (though I might have made some errors). When the movie zooms in, you can see some of the individual damage (red numbers), individual Hitpoints and some dyings.
In this example there are some thousand individuals simulated, so don´t expect the simulation to be very smooth. In fact, I implemented a screen-shot-routine, so that the programm makes a screen-shot of the battle-field, each time a turn is calculated. I put the pictures together for this movie. The simulation is sometimes slower than the movie.
The orcish warmachine (big,red dot) came too late to really have an impact and I ordered the Darokin cavalry to attack it. I also implemented some spells yet (magic missle, fireball, sleep), but as neither the Darokin Legions nor the bugbears have some magic users with them, you can´t see them. I can post some more movies with elves against orcs, if you want to see them...
As you can see in the movie I did not care about graphics and only concentrated on simulation. This is not very likely to change.
Suggestions and comments welcome, though real life has me back right now, so it will take some time until I can change or add anything.
Have fun watching the movie:
https://youtu.be/cco-nJ5Kt6c
Isometric View, Initiative-Rolls
I am already making experiments with wizards of Glantri. As "flying" will be an option, I had to switch to some 3d-view, which is an isometric view. There where other mods to make. Here are all changes to the simulator:
- isometric view
- initiative is calculated; each round is devided in 11 "initiative sequences" and characters will act according to their initiative-roll (nodified by their dexterity). By thus, one round has now 11 screenshots. As each screenshot is shown for about 1 second, the movie nearly shows the battle in "real time" (according to D&D rules, which means one round is 10 seconds).
- altered graphics:
red numbers on white bubbles means: damage taken
white numbers at the lower right in a character symbol means: the character is retreating or fleeing. The number is indicating how many rounds he will flee.
I replayed the "Borderland Incident" with the new graphics and I tested, what would have happened, if General Claus Cornwick
would have attacked straight away with all his forces, instead of attacking the warmachines with just his cavalry. Find out in the movie!
This time I added no comments. It is just 1:40 minutes pure battle:
https://youtu.be/eUKntO0K1VI
Here is another view of the simulator-window. Click it to enlarge: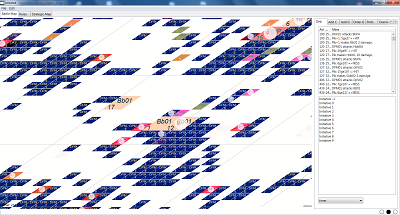 You can view the stats of the outcome of the battle over here. There are 509 Pikemen of the Darokins left, whereas the army out of the broken land is destroyed except for some fleeing units: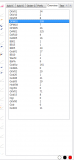 Flying Orcs on Skywings
"Thars Legion", leaded by King Thar himself and supported by the "Cavern Orc Patrol", attacks Darokins VII Legion. There are orcs, gnomes, and even trolls, bugbears and hill giants in Thars Legion. But, and this comes as an surprise to the Darokins, there are also some orcs flying skinwings. And they are really nasty! Here's the movie:
https://youtu.be/wA6uorcUDwc
Here's a preview picture of it: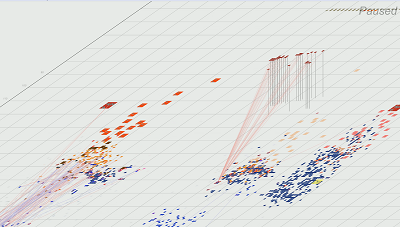 Thanks to Robin for the info regarding the skinwings,
to religon about the large crows (though they havn´t made it into the simulator yet)
and to Lord Sheriff Takari, who made some suggestions on what tactic flying units may use.
There is still a long todo-list in my mind, but I will try to present more movies in the future.
The following pictures show a list of the amount of individual charactes before and the casualties after the battle. The shortcuts are probably somehow esoteric, but you might get along with it, if I tell you, that all shortcuts beginning with an "D" are Darokin soldiers. You might also guess, that
"DKV" is "Darokin cavalry",
"DPM" is "Darokin Pikemen" and
"DAR" is "Darokin Archer".
All other are humanoids from Thars Legion, especially
OrcSW05 are the orcs riding the skinwings
The number behind each shortcut is a hint to the level of the character. Click on the previes to enlarge: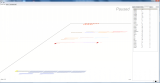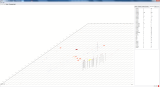 Real game-time and all of broken lands
Ok, I was interested about real-game-time in large-scale-battles, so I made a new simulation:
This is all of the Broken Lands against the Second Army of Darokin (stationed in Selenica), supported from the II Legion, the XIII Legion and the XIV Legion of the Third Army of Darokin (stationed in Corunglain).
There are
9671 human cavalry men, pikemen and archers against about
12800 orcs, bugbears, gnolls, ogres and even hill giants and trolls. And some orcs are even flying on skinwings, picking out the human commanders with their bolas and bows.
The movie is in real-game-time (if I hadn´t miscalculated) with one D&D-round approximatly 10 seconds in the movie. In about 12 minutes all the battle is settled.
This is just a preview which emphasized on real game-time; There is no music and no comments on the battle.
I plan to make a more elaborated movie about this incident in the future. Anyways: enjoy:
https://youtu.be/bBcEHrjTO38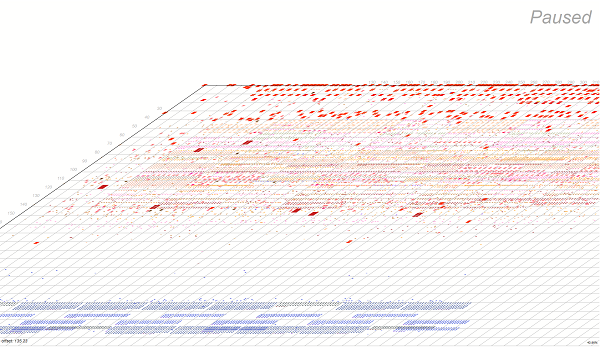 Simulator goes 3D
I was a bit disappointed about the isometric-view, so I decided to go real 3D.
The video just shows the first results. The graphics are now accelerated and the camera is now fast as lightning. No arrows and no magics are shown right now, but the game-machanics is still working: Soldiers from both armies still drop dead or flee. Enjoy the movie:
Enjoy:
https://youtu.be/FvpiVXJjV5U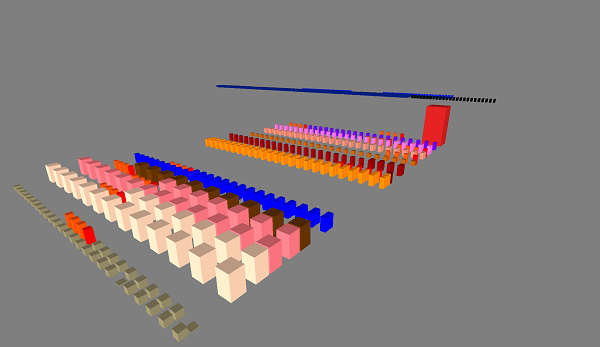 3d Models for the most common characters
Well, some time passed by since I posted the last news on the sim, so I thought I might post an update:
Changing to real 3d turned out to be really time-expensive, but at least I managed to find/create some models for the most common character-classes.
I made a video to show you a battle with all the characters in 3d (once again Darokin Legion against Thars Legion with some help of the other tribes):
https://youtu.be/w7TiqUe7cKo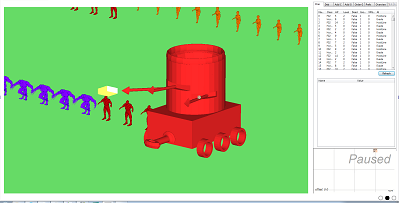 There is still much to do and still I am not sure, whether I really favor the 3d-view against the former 2d view. 3d gives you some extra info about the involved character-classes, but it´s really hard to show all the other info (damage taken, hit points left, level and so on...)
Damage taken is now visualized by red dots above the character. Hit points left and level can only be guessed at the moment.
There are also other problems which occur only on 3d: Where do arrows strike? Where are they shoot of from? And so on....
I will try to solve these problems but I will probably not spent too much time in this 3d anymore, as it tends to get out of control.
Best Regards and enjoy!