DMs Guild just announced that they are putting Print on Demand on hold until the end of the year.
They Tweeted the following screenshot on Twitter: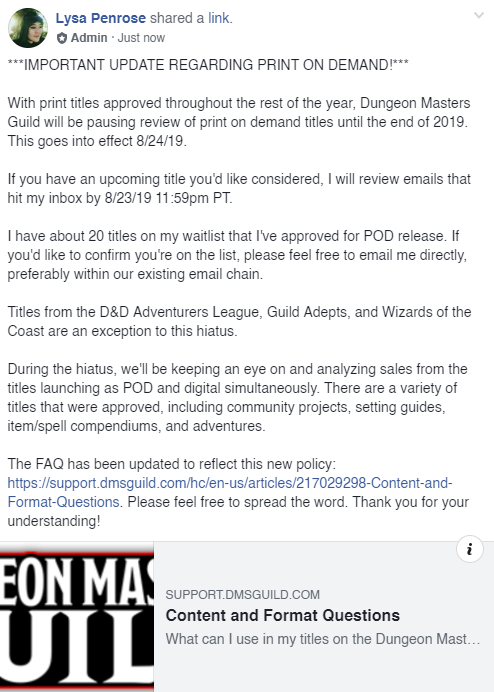 (It looks like that screenshot is taken from a private Facebook group and republished publicly on Twitter. I can't find the announcement on their Facebook page.)
Here is the new policy added to the
Content and Format Questions
page on their website:
Dungeon Masters Guild wrote:

Can I sell my Dungeon Masters Guild title in print as well as PDF?

At this time, we are allowing only a VERY LIMITED list of Community Creator titles into our print-on-demand offering, with a focus on launching NEW titles from top-selling authors as print and digital at the same time. Selected titles must also be at least 40 pages in length and created by designers familiar with our print on demand specifications. If you have questions about this or would like your title added to our waitlist for consideration, please contact

lysa@onebookshelf.com

.

As of August 24, 2019, DMsGuild will pause review of DMsGuild print-on-demand requests through the end of 2019, with the exception of titles submitted by the D&D Adventurers League, Guild Adept program, and Wizards of the Coast. Applications received by August 23, 2019 will be the last requests reviewed before this hiatus, during which time the program and sales will be reviewed and evaluated. Thank you for your understanding!
So, if you are creating a DMs Guild product and do want it to be available in Print on Demand format, you have just ten days to submit your application.